Second-graders are lending their words and creativity to help animals that are up for adoption, and it is unimaginably adorable! A class of second graders from St. Michael's Episcopal School in Richmond, Virginia, drew pictures of dogs and cats and wrote heartwarming letters on their behalf to help with their adoption at a local shelter, reported Good Morning America. "Hi, my name is Sleigh Ride! Do you want to adopt me? You can train me if you want! Can you put a heart on my collar? I am a girl. Who are you?" read one note by Winnie Rice. "You can snuggle with me! I promise that I will be a good dog. You can even sleep with me if you want! I love going on walks and playing outside. I am a medium-sized dog. I'm getting bored of this place. Would you love me forever? Love, a cute puppy."
The second graders drew adorable illustrations of the animals as well, along with a note. "Hello, My name is Sunday Special. I would love to be adopted. If you do adopt me, I hope I will brighten up your Sundays like the SUN! You'll be my Sunday Special, and I hope I'll be yours !" wrote Aubrey Consolvo in one letter. Second-grade teacher Kensey Jones said it was her favorite note of them all.
It was Kensey Jones, who teaches second graders at St. Michael's, that came up with the idea. Jones volunteers on weekends at Richmond Animal Care and Control. Jones knew it could be an invaluable experience for the kids in terms of giving to the community and for the animals at the shelter as well. "The idea came to me that I could connect [the students'] persuasive writing paragraphs with something real in the community," said Jones.
Christie Chipps Peters, the director of RACC, recalled Jones making her pitch. "She emailed me back in January, and was like, 'You can say no, but what do you think about this idea of ​​having the kids write persuasive writing, like from the perspective of one of the shelter dogs?' and I thought it was an amazing idea," said Peters. "It sort of just grew from there. She's a genius and we were happy to be part of it."
Peters first invited the students to meet Snow, a 10-week-old American pit bull-terrier puppy who was awaiting adoption. The students learned that some animals were considered "less desirable" by potential adopters, and they were typically older dogs and pit bulls. The shelter had many such dogs because they are the only open-admission shelter that takes in every animal regardless of health or behavior. "We typically take in around 3,000 animals a year and we take in everything, not just dogs and cats — we've had monkeys and alligators and snakes," said Peters. "We respond to every call for service. And then we have wonderful volunteers and an adoption team that really work hard to try and find forever homes for the animals in our care."
The second graders were excited to write letters for the dogs to help them get adopted from the shelter. "They actually wrote these paragraphs very quickly because of the excitement," she said. Danielle Petroski, one of Jones' students, said, "All dogs deserve a loving home, especially Snow [the puppy ambassador]. I am so very happy to be able to help neglected animals find great forever families."
Peters understands the appeal of children making the pitch because they love unconditionally and describes them with such love. "The stories are so sweet," she said. "Children write the best anyway because they have no filter and they're honest and kind and it just comes from such a sweet spot. They haven't yet been jaded. Reading their stories and looking at that sweet dog in the cage, I think just speaks volumes to moving on the emotional side of things."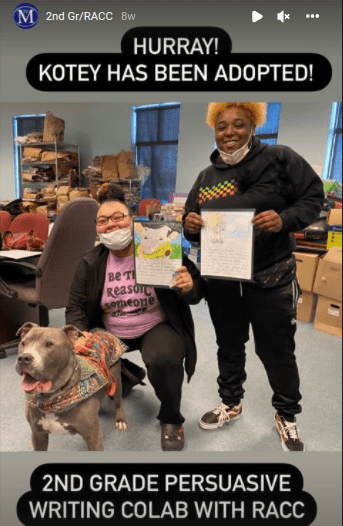 The program was such a huge success that eight or nine dogs found homes within a week. Out of the 24 animals in total, 20 dogs and a cat have found homes. "I didn't think they would get adopted," said Peters. "I mean, I really didn't have an expectation. So anything was good, but I was surprised that they got adopted that quickly."